Silicone edge graphics provide the best looking styles available so

take your visual displays to the next level
Silicone edge graphics are one of the best looking and most convenient graphic styles to highlight your company
.
With a variety of options, they provide a display that gets your business noticed in your building, at trade shows, at pop-up events, and any other area where you do business
. Silicone edge graphics (SEG) display large printed graphics and
oddly
shaped items in any interior environment. Silicone edge graphics provide the best looking styles available

, but what is it?
Silicone edge graphics
are printed
on fabric using dye sublimation, which uses high heat to transfer ink
directly
into the material, so it becomes a part of the graphic itself
. This process gives it crisp photorealistic colors without any glare. Then a thin silicone strip is sewn around the perimeter of the fabric,
which fits
snuggly
into a recessed groove in the frame. When you pull your graphic tight, it gives you a seamless, wrinkle-free appearance.
Because the frames are so thin, it gives the display a near frameless appearance with edge-to-edge graphics
.
To not distract from the image, the metal frames don't border the face of the prints like regular frames so you only see the framing from the side
. The customer's gaze focuses on your visual message. Want it to stand out further?
Backlit options illuminate the graphic from behind giving a result that is bold, vibrant, photo-quality artwork that captures the attention of anyone passing by
. Silicone edge graphics are one of the best looking and most convenient graphic styles to highlight your company.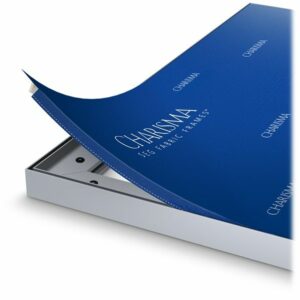 Flexibility
with Silicone Edge Graphics
To get the most flexibility out of your displays, consider Silicone Edge Graphics (SEG) because they are customizable in any shape or size, and can be free-standing, suspended from the ceiling, mounted on a wall, wrapped around a cube… you get the idea
. They can be single or double sided, can include sound absorbing panels, and can be powder coated any color.
If you want your company's office to stand out in your building, or showcase your brands at a trade show, the way to go is an SEG.
You don't need to have a graphic in a standard size like the rest of your competition. Use unique shapes and sizes to make your impression on the world.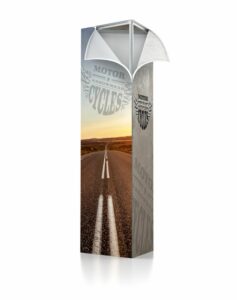 Convenience
with Silicone Edge Graphics
Changing your logo or adding a new product to your line? SEGs are
easily
swapped out of the frame and a new one snapped into place.

The frame and graphic are light-weight making them portable, and shipping costs are lower compared to heavier products

.
Portability is key when transporting to/from events.
Lastly
, set-up is a breeze. You don't need an expert to install it, and it only takes one person to set-up.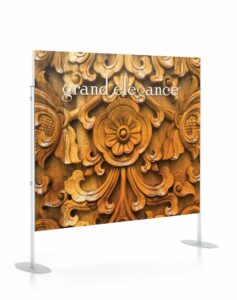 Durability with Silicone Edge Graphics
SEGs stand the test of time with their durability, and last longer than traditional print media like canvas, posters, and paper
.
They are scratch resistant and won't tear, and can
be washed
for use time and time again. It won't fade so you will get years of use out of it. The ease of storing makes them a good choice because you can fold or roll to maximize your storage space.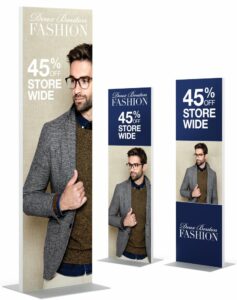 Attain
flawless beauty with functional SEG displays that are adaptable to endless uses. Think outside the box and create a unique display that no one else has. Meet your needs and get your company noticed! Silicone edge graphics provide the best looking styles available for your business.