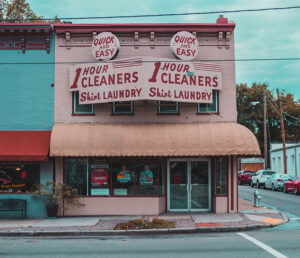 Did you know that your signage is the first thing people see when they walk into your store? It's not too difficult to imagine how much of an impact a well-designed sign can have on a business.
One study found that, on average, each square foot of signage generates $187 in annual revenue for retail stores
.
You may not know that storefront signage is only one of three main types of signage that are key to retail stores. Let's take a look at the top three kinds of signage for retail stores.
Store Front:
Storefront signage is one of the most important types of signage for retail store owners. It enables customers to find your store, and helps attract walk-by or drive-by traffic. Storefront signage also tells customers what you sell and gives the feel for your store. It represents what your store may sell and gives a feel for what you're all about. This signage would be your main store sign with the store name on it, window decals, and sidewalk signs. Signage that will
be seen
first by customers.
Wayfinding
Another one of the most important signage for any retailer is wayfinding signage. Wayfinding signage is what helps customers find their way throughout your store. It can be helpful in guiding customers to the sale rack or to another floor. This can be signs like rack signs, and floor decals. Think of any signage that will help customers "find their way". It's in the name!
Branding Signage
The third type of signage is interior branding signage. Branding signage is a powerful way to promote your business and stay ahead of the curve. This can be wall mounts, signs hanging from the ceiling, to handouts, and more.
Branding signage can
be used
in public places like shopping malls or inside stores. You can use branding signage to advertise sales, new exclusive offers or items. It can also help organize your store as a whole. Customers like organization and clarity when shopping. It makes finding what they're looking for a breeze.
If you are looking for ways to improve your retail store, signage is a great place to start. It's important that every aspect of your storefront has the potential to
be seen
. Signage is so crucial in identifying your store, organizing and promoting.
Need a signage quote? No problem, just fill out this form.