Pull up or retractable banners are an economical solution for your display needs. Use pull up banners for your lobby showroom or event as they are portable, easy to set up and come in widths from 24″ all the way up to 96″.  All told we have over 58 different pull up banners to choose from. The banner media, or substrates, available are hybrid, opaque fabric, fabric, dry erase, scrim vinyl, smooth vinyl, polypropylene, backlit film and clear vinyl.
We have so many options it may seem daunting to know which one to choose. Not to worry as we have put together a product sheet to help you make your selection. The retractable pull up guide is broken down into good, better and specialty categories.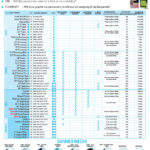 The sizes are listed as well as the options available for each pull up. We also list the RCAT rating which is what the minimum retractions are for each one. The last column lists the warranty. To download the guide click here. You can also just click the image of the guide to download.
Retractable banners are the perfect choice for lobbies, trade shows, events, meetings and retail stores. For example if you are exhibiting at a tradeshow, you can use an 8′ pull up for your backdrop. They are easy to set up, all you have to do is pull up the banner and you are good to go! If you have multiple products, you can have several pull ups in your booth. This allows for variety when setting up and you can change out the banners for different tradeshows, depending on what the show is featuring.
Here is the link to our main retractable or pull up banner page. The page is easy to use. Just select the product you are interested in, and the individual product. You can click the link, add to my list and it will be added to your shopping list. Once you have all of your products added to your list, just click the submit list button it will come to us for processing. We will contact you for the shipping information and give you the final price. Please be sure and let us know when you need them, so we can ship accordingly.
We have the most comprehensive collection of pull up banners anywhere. Please take the time to download the retractable banner pull up sheet. Keep it handy as a reference and be sure and send it to your friends. Whenever you use pull up banners for your lobby showroom or event, give the chart a look so you can choose the right pull up for your needs. There are even pull ups for outdoor use.