Digital Arts February 2023 Newsletter
Welcome to our Digital Arts February 2023 newsletter! We expanded our print version to 4 pages this month to make sure we keep you up to date with everything that is happening at Digital Arts. If you have any suggestions for topics to cover in future newsletters, we would love to hear from you. Just send an email to info@digitalartsimaging.com.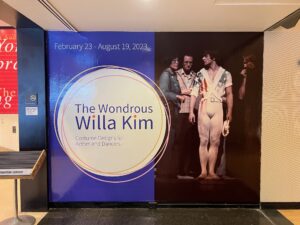 RECENT PROJECT HIGHLIGHTS
In last month's blog on wall, window, door and elevator wraps, we mentioned the following two projects. We completed an installation this month at the New York Public Library at Lincoln Center, a longtime client, for their Willa Kim exhibit. Willa Kim was an incredible costume designer for stage, dance, and film in New York City. She had an incredible career. Above is a photo from the exhibit. We printed and installed 3 walls plus all of the posters used in the exhibit.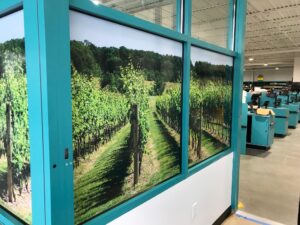 We had a break in the weather, so we could actually install some outdoor graphics in New Jersey for Bottle King. It needs to be at least 50 degrees for the vinyl to adhere properly, but we managed to do it in the mid 40s. Besides installing on their exterior windows, we also installed interior point of purchase wall graphics. Bottle King has incredible stores with a wide variety of spirits, wine and beer, in addition to other related items. They are also long-time Digital Arts clients and we design their graphics for them, too.
PRODUCT HIGHLIGHTS FOR DIGITAL ARTS FEBRUARY 2023 NEWSLETTER
Dimensional Graphics
Dimensional graphics are really a great way to brand a wall or space. A dimensional logo we recently produced and installed for Synchronoss is in one of their video studios at their headquarters in Bridgewater. In addition, you can use dimensional graphics for logos and inspirational quotes. They work well both indoors and outdoors.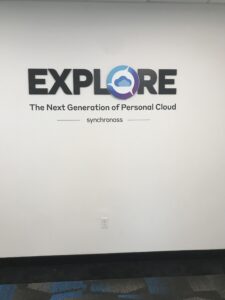 Dye Sublimation Printing
Dye sublimation printing onto aluminum has a very saturated, rich look. They make great additions to offices and homes for art and photography. You can mount them with aluminum standoffs or cleat mounts. Aluminum prints can be made with rounded corners or routed to a custom shape. Additionally, these prints can be used as signage.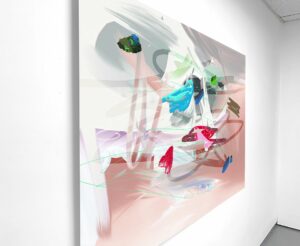 Small Format Printing
Did you know that we offer traditional printing? We can print your letterhead, business cards, brochures, flyers and pocket folders as well as your signage and large format needs. Please give us the opportunity to quote your next project.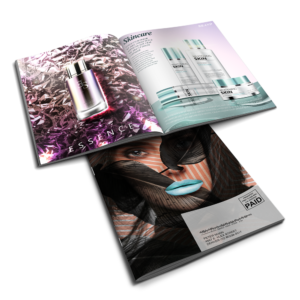 Website Tips
Want to make your website functional instead of just an online brochure? Make sure your website is easy to navigate and your visitors know what to do in order to do business with you. Make sure the next step is obvious. Have a chat function so that they easily get questions answered. Also, make sure there is a way for visitors to sign up for your online or mailed newsletter. Don't put everything on the homepage. Adding clutter just confuses. Confused people don't buy. If you would like to have a website refresh, we are happy to give you a quote. Book a call here
Marketing Plan Help
Do you have a marketing plan? You know you should! It is not too late for 2023. To help you, I put together a free course on how to create one. The great thing about a marketing plan is that once it is set up, you just have to execute. You can always change this or that if it isn't working, but it is very important that you have one.
It's kind of like preparing your menu before going to the store. Once you know what you are going to eat and have the ingredients, you just need to make the meal. Compare that with every evening wondering what you are going to make for dinner. At any rate, here is the link to the training. It is broken down into 11 eight minute modules and it is totally free just to help you get started. Click here: Market Plan Help
Market Que Update
Market Que, our marketing platform is getting rave reviews from all those that see it. A number of clients use it as their marketing hub. See what the buzz is all about. Correspondingly, we are planning on adding an AI content writing tool later this year. Schedule a demo here.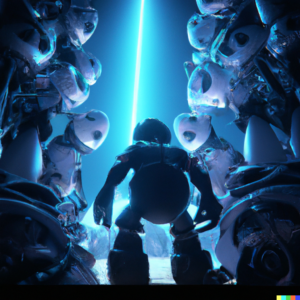 AI Report
We have been using AI a bit for the last 10 months or so and it is truly amazing. There are going to be some ethical issues that arise, I am sure. A judge recently used ChatGPT for a decision in a real case. There have been some other uses that are questionable, especially people using it to write homework assignments and things like that. We have used it a bit to help us write headlines and such, but we almost always tweak the output a bit.
So what are we using? We use Jasper, formerly Jarvis, which helps us write marketing copy. It is pretty amazing. It is a great way to overcome writer's block and get ideas for articles. Think of it as a first draft generator. You can try it for free here: Jasper link
We also have been experimenting with ChatGPT which is a real game changer. CGPT to me is going to revolutionize a lot of things. I suggest you check it out. Even if you don't plan on using or supporting it, I believe it will become part of your life somehow. Below is a sample output from it. I asked it to write an article on AI.
From ChatGPT:
Artificial intelligence (AI) has been a buzzword for several decades, but recent advances in technology and data analytics have transformed the field of AI, and the status of AI has never been more promising. AI is being applied in various domains, including healthcare, finance, transportation, manufacturing, and entertainment, to name a few. In this article, we will discuss the current status of AI, its recent advancements, and its potential impact on society.
The Current Status of AI
AI has come a long way since the first neural network was developed in 1958. Today, AI is being used in various applications, including natural language processing, speech recognition, image and video analysis, predictive analytics, and decision-making. Deep learning, which is a subfield of AI, has been the driving force behind many recent advancements in the field. Deep learning algorithms are neural networks that can learn and improve over time by analyzing large volumes of data.
AI is being applied in many industries and domains. In healthcare, AI is being used to develop personalized treatment plans and predict patient outcomes. For finance, AI is being used for fraud detection, credit scoring, and stock trading. In transportation, AI is being used to develop self-driving cars and optimize traffic flow. For manufacturing, AI is being used for predictive maintenance and quality control. In entertainment, AI is being used to develop realistic game characters and to create new forms of music and art.
Recent Advancements in AI
Recent advancements in AI have focused on making AI more accessible and easier to use. One of the biggest advancements has been the development of pre-trained models, which are AI models that have been trained on large datasets and can be used to solve specific problems without requiring extensive customization. These pre-trained models have made it easier for companies and individuals to integrate AI into their workflows and applications.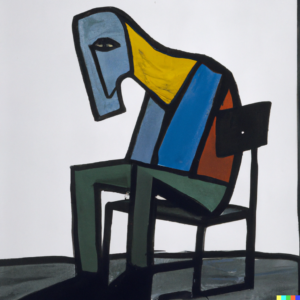 Furthermore, we also have checked out some of the capabilities of AI generated art. Using command line descriptions to generate the images, a few examples of what we created are above and below. The image above our AI Section is "man imprisoned by rogue robots cinematic lighting low camera angle digital art" and directly above this paragraph is a "a painting by Picasso of a depressed man sitting in a chair". Below is an image of a flatbed printer. What is this all going to look like in a year or two?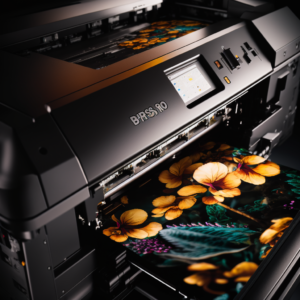 We hope you enjoyed and learned a lot in our Digital Arts February 2023 newsletter! If you would like to receive a printed version, you can sign up for it here.