High Quality Custom Trade Show Displays
What are the best displays to use at a trade show?
High quality custom trade show displays from Digital Arts Imaging! The first consideration is the size of booth that you will be exhibiting in. The most popular booth space is a 10′ x 10′ space. This is important because your layout needs to utilize the space and be designed to attract prospects into your booth.
A typical trade show booth consists of a backdrop, a table with a table drape or table cover. Trade show displays are typically made out of cloth for ease of putting them up, they are wrinkle resistant and for how light weight they are. You can make them out of vinyl but vinyl is heavy, you can't get wrinkles out and are hard to store.
We have found over the years that our customers really like high quality pop up displays. We make pop up displays that range from 24″ wide to 8′ wide! Incorporating a pop up for your backwall exhibit design provides an eye-catching display that is easy to transport and set up. Here is a link to our 8′ pop up display including the graphic.
Retractable banners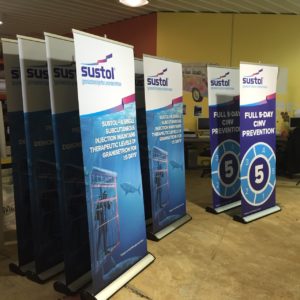 Retractable banners are made by loading the graphic into hardware that contains a mechanism that puts tension on the graphic as it is pulled up. This keeps the graphic tight and looking great.
Tension fabric backwalls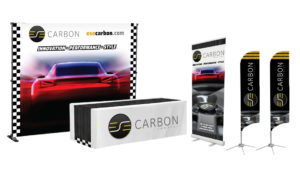 Tension fabric back walls are also a great solution for backwalls. Here is a link to our tension fabric back walls.
Our graphics are printed with dye sublimation. This yields deep rich colors onto fabric. The dyes do not come off when washed. You can also steam or iron the graphics as needed. Dye sublimation works by printing with inks that sublimate, that is when heated they go from a solid state to a gaseous state. The gas they color the fabric with a deep rich color.
We have an extensive selection of trade show solutions. Here is a link to our entire catalog for backwall and trade show solutions. In addition, we have trade show packages for you. We have put together the most popular trade show hardware and graphic solutions for you. You can view them here.
To order just add your selections to your list in the upper right corners of the pages. Once your list is complete, send it to us by clicking the link. Let us know where to ship it and when it is needed. We will put together a final price including shipping for you. Here are some custom packages for you.
Table Drapes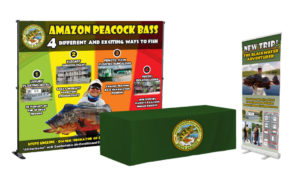 Table drapes brand the tables that you use in your booth. They are a great way to dress up your booth. We have them for 48″, 72″ and 96″ tables in full color.
Need Design?
If you need design we can help you out! We have an experienced team that can design your booth and manage the project from creation all the way through delivery. Just let us know if you need our design services.
Conclusion
So what are the best displays to use in a trade show? They are colorful, pull prospects into the booth, are easy to set up, easy to take down, are easy to store and easy to maintain. Our favorites are fabric tension and fabric pull up banners or retractable banners.
When you need high quality custom trade show displays, look no further than Digital Arts Imaging. Once you have your show date booked, it is time to start on your booth. Give us a call at 855 915 0924 or drop us an email at info@digitalartsimaging.com. We will be glad to help you!