Fabric Displays to Make a Big Impression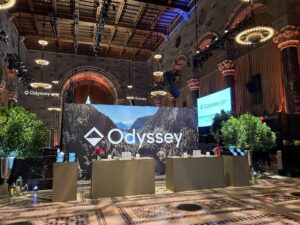 If you are in need of an easy to set up backdrop that looks great, look no further than our PFK backwalls. They come in sizes from table top to very large. The one in the photo that we made for Odyssey is 20' x 88". The advantage of fabric is that it is lightweight, prints beautifully with our dye sublimation process and sets up very quickly. The displays come with a soft case or hard case, and lights are available as well. You can order them with or without the sides that are 12" wide. 
Fabric displays are an incredible tool, especially when you're aiming to make a big impression at events like trade shows or conferences. They're versatile, vibrant, and they've got several benefits that you might not have considered.
Lightweight and Transportable
For starters, fabric displays are incredibly lightweight and easy to transport. Unlike traditional hard panel displays, which can be bulky and cumbersome, fabric displays can be folded down to fit into a small carrying case. This makes them an ideal choice for events where you'll need to pack and unpack quickly. And, let's face it, who wouldn't prefer carrying a light fabric display over lugging around a heavy, hard panel display?
Vibrant Graphics
Another major advantage of fabric displays is their ability to showcase high-quality, vibrant graphics. The dye-sublimation printing process used on them results in rich, full-color designs that won't fade over time. This is a big deal if you're hoping to stand out in a crowded space!
Durable
Lastly, fabric displays are wonderfully durable. They're resistant to wrinkles and creases, which means they'll look just as good on the tenth use as they did on the first. Plus, many fabric displays are machine washable, making them easy to clean and maintain.
So, whether you're heading to a big industry trade show or setting up a local booth, consider fabric displays. They're portable, vibrant, and durable – a combination that's hard to beat! We can create custom sizes too. Reach out to us at info@digitalartsimaging.com for a quote! To read more, check out our blog Create a unique background wall for trade shows and events