Digital Arts Year in Review
It's time to reflect on 2022 and give you our year in review. It has been a year of rebounding from Covid's impact on business. Without trade shows and people going into the office, our workload was reduced. 2022 was a breath of fresh air for us at Digital Arts. Thanks to our loyal customers, who helped us rebound.
East and West Production Efficiency
As most of you know, in addition to our work in the New Jersey/New York area, we have added operations in Boise, ID including production. This has really helped us serve our customers who ship to Las Vegas, California and the west. If you have an event in Las Vegas or LA, we produce and ship from Boise reducing shipping costs and turnaround times. This has been a real boost for our efficiency. We are moving to a new office in Boise on January 3rd, but our remit to address will remain the same.
Newsletter
November was our first issue of our newsletter, Vision, which we will be mailing out monthly and adding more content. Please let us know if you did not receive your copy. Our goal is to provide product information and tips to help you make better purchasing decisions. If you have ideas about articles you would like to see in our newsletter, please let us know.
We published and sent out several guides in our email newsletters. These guides include a definitive guide on resolution, a very confusing subject, a trade show tip sheet, a letter height/visibility chart and a color contrast chart for maximum visibility. If you would like another copy, just let us know and we will email it to you.
Online Store
Our online store went live this year. We have about 90% of our products in the store. Of course, you don't have to use it. Since we provide such great customer service, you may not want to use the online store, but it's there if you choose to. Pricing on our exhibit and hardware catalogs are also available for you. They are a great place to start and get ideas for upcoming projects.
Online marketing platform

Our online marketing platform, Market Que, has been doing great, and we are now offering monthly subscriptions. Market Que places all of your marketing applications into one platform, and we are really excited to show it to you! It has tremendous capabilities and will help you attract new customers and maintain your current base. It comes with personal onboarding and support. Email us for a demo!
Project Highlights
Finishing off the year with some great projects, we wrapped two buildings for Netflix and one for Nordstrom, both projects in LA. We have added installation capabilities in Los Angeles and plan to expand our installation capabilities in other cities. If you have a need in another market, please let us know. In addition to completing over 4,000 sq. ft. of fabric for Sirius XM for use in their studios, we wanted you to know that we can now print cloth up to 124" wide by any length. We love sharing this part of our year in review!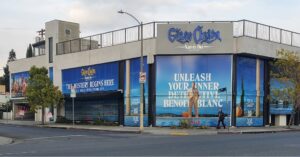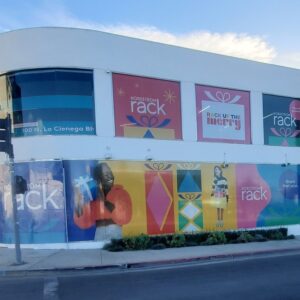 Other News
We have expanded our design capabilities and added website, landing page and email services. If you need design help, we are here for you. Brochures, tradeshow displays, websites, ads, social media graphics and the like are available. In addition, we have also added copywriting and editing to our services. If you have a need for any of these services, please let us know.
Our business and data are now 100% cloud based. We used to have our own servers and have everything onsite. We progressed from CDs as storage to DVDs to nearline to our own large capacity servers to the cloud. The pain from Superstorm Sandy, being without power for 2 weeks taught us the importance of being cloud based. Although we still have our CDs and DVDs from the old days, we started the switch to cloud storage in 2020 and haven't looked back. All of our software is cloud based as well.
From all of us at Digital Arts, we thank you for your business and hope you have appreciated this year in review. You are very important to us. We strive to serve at the highest level, to help you grow your business and your clients' businesses to reach new customers and markets. If there is anything we can do for you, please let us know.
Happy New Year on behalf of all of us at Digital Arts!