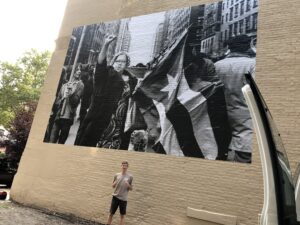 Don't waste your brick walls. Use them for marketing messages. Our brick wrap makes your graphics look like a painting on brick, cinder block and concrete walls.
Do you want to get your message out to more people? Try out of home graphics on brick or cinder block walls. Our brick wrap lasts over 3 years outdoors. It installs without heat which means a less costly application.
There are walls everywhere and now is a perfect time to get your message to the most views. Photos, logos, murals or any branding message you have. Be seen and heard in a big way on walls.
The process is simple. Measure the wall where you want your graphic to go and send us the dimensions and a photo. We will send back a quote. If you are a DIY type of person we can send along instructions on how to prep the wall and install it. If you prefer we can install it for you. Let us know your preference.
If you have a metal building or wall, our brick wrap will work on metal too. Brick wrap is also good for marathons, races, outdoor events and street fairs. It will stick to concrete and asphalt. Use it to brand your outdoor events this year. Don't waste your brick walls, use them for marketing messages.
Brick wrap will stick to bare brick but it needs to be dirt free. It is best to wash it with a power washer. Painted brick is even better but needs to be clean as well.
Put up community messages, brand your building or put your marketing message up. Either way you will get noticed and isn't that what marketing is all about? The cost is affordable and won't break the bank. Get your quote today and let's get started. We install anywhere in the US too. Send us your dimensions and photo today. Don't waste your brick walls, use them for marketing messages. Here is a link to our
quote form.