Backlit displays duratran vs inkjet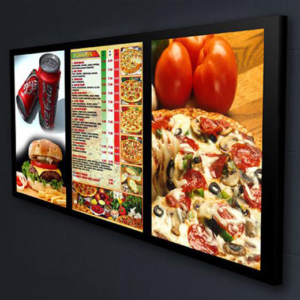 Duratrans
Backlit displays duratran vs inkjet, that is the question. Backlit graphics for menu boards and displays usually fall into two categories. backlit film and backlit fabric. Twenty years ago there was one product that dominated back lit display graphics. The name of the product was duratrans.
In the 90s and into the early 2000s duratran was the go to product for backlit signage. It was a photographic product meaning it was a chemical process. Chemicals pollute the environment so using a photographic process is not recommended.
Inkjet printing
With the advent of inkjet printing, it was no longer necessary to use chemical processes. Beautiful saturated backlit graphics is now possible with inkjet. There was one hurdle remaining and that was colorfastness. Dye based inkjet was color rich but faded under 24/7 lighting. Soon pigment based inkjet was available and colorfastness was no longer an issue.
Substrates
When backlit inkjet printing became possible, there was a limited number of substrates. Soon the manufacturers developed many alternatives to the first wave of inkjet substrates. There are now substrates for any and all applications as backlit graphics.
Fabric Backlit
Another development has been dye sublimation printing on fabrics. Due sublimation yields rich colors that do not fade. Combine this with silicone edge graphics for backlighting and you have a winner! You see silicone edge graphics used for backlighting in airports and convention centers. They are cost effective, easy to change the graphics and colorful. Dye sublimation is also printed via inkjet.
Many Alternatives
There are many alternatives to duratrans in today's market. If you are installing new light boxes, consider silicone edge graphics (SEG). We carry the Charisma line of SEG hardware. There are backlit and non backlit variations available. You can also get narrow profile hardware if space is an issue. You can see
our collection here.
If you have a project coming up and need backlit graphics, drop us a line. We are always available for consultation to help you make an informed decision. Visit our site for samples of our work.
Request a quote here.