Acrylic Uses For Signage
Acrylic uses for signage are myriad and it is a great substrate for signs. Signage made from acrylic is a valuable substrate for today's interior and exterior signage needs. It comes in a variety of colors and thicknesses. Acrylic can be print on the front or back. It is easy to route and form. Acrylic comes in many thicknesses and finishes.
Exterior examples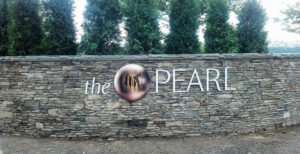 Acrylic cut into shapes such as this sign can be very appealing to the eye. This circle had a bull nose finish on the edges to enhance the design of the circular logo. By printing the graphic on the back, we were able to add depth and dimension to the sign. The letters are also acrylic. The thickness of the acrylic was .5″. 
Using acrylic for logos and letters gives a sign that will last for many years. Acrylic is a very durable material.
Interior examples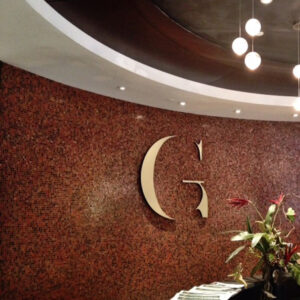 This letter G was 4″ thick and painted a metallic gold. We hung it on a wall in a hotel lobby in NYC. It is an example of interior acrylic graphics.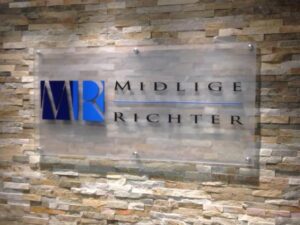 We made this sign by cutting letters out of .5″ acrylic, painting them and then gluing them onto .5″ P95 acrylic. P95 is matt on one side and glossy on the other. Using P95 gives options to the finish that is viewable. Mounting prints on the gloss side and viewing from the matt side is a great technique.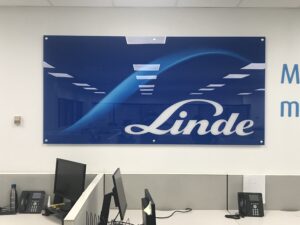 Printing on the back of acrylic and viewing from the front yields a great look. It adds dimension and gives a sophisticated look. This client has acrylic logos and photos of their locations on acrylic.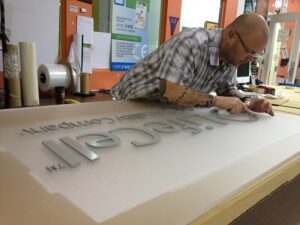 Here is another sign that we made by gluing cut acrylic letters onto P95 acrylic. It is a great look!
Summary
If you have an interior or exterior sign project coming up, let us quote it for you using acrylic as a solution. Here is a link that will show you examples of our work.
Here is a link to information about our company including our 20th anniversary special.